FDHs ask HK govt for appropriate working hours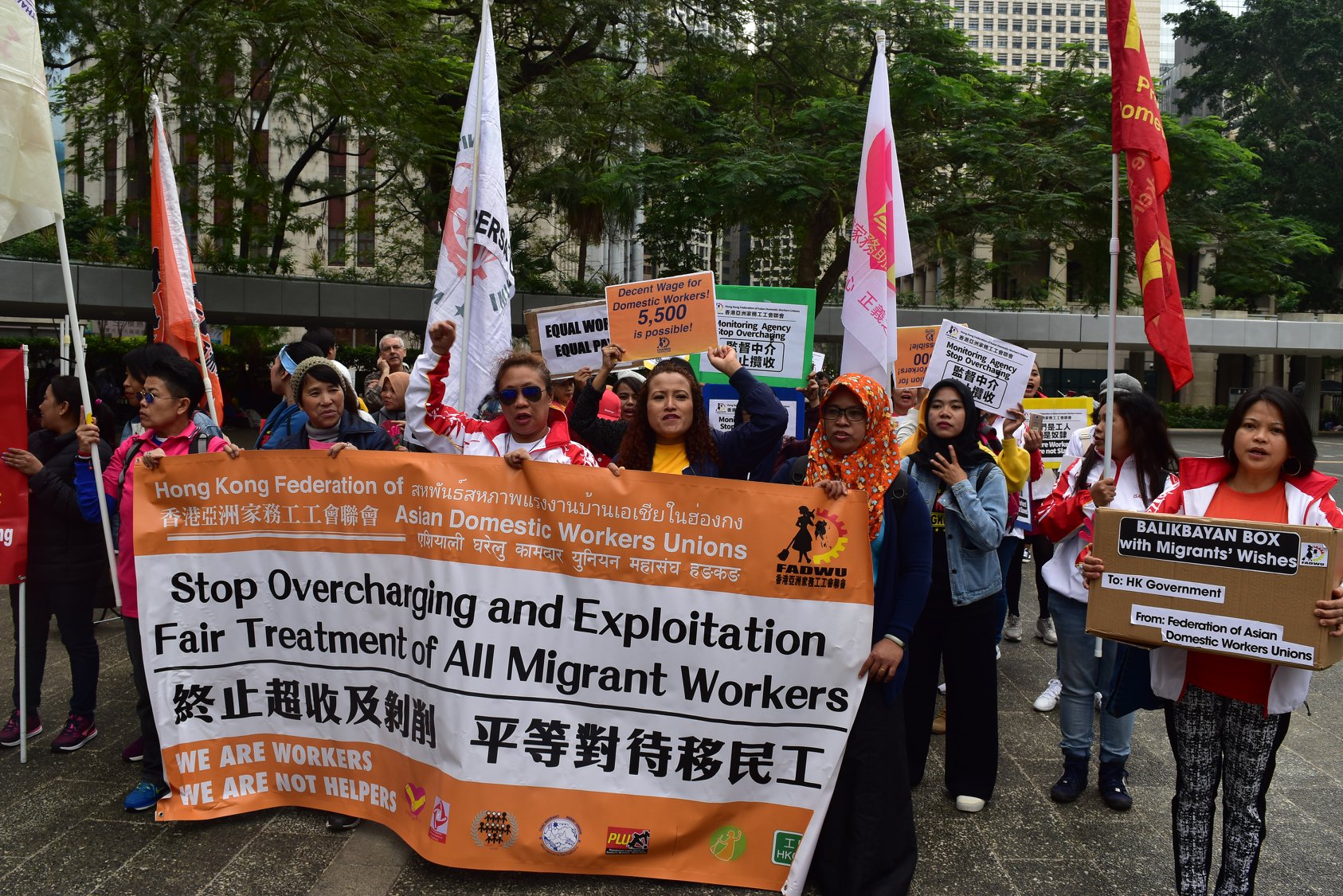 FOREIGN domestic workers urged theHong Kong government to set "appropriate working hours" for them so that they could not be exploited by their employers.
Marking International Migrants Day, members of the Hong Kong Federation of Asian Domestic Workers Unions (FADWU) marched to the Government Head Offices in Admiralty on Dec. 16 and called for "equal rights and equal protection for all workers."
"Day after day, migrant domestic workers shoulder the heavy labour of caregiving and various domestic chores," FADWU said in a statement.
"These workers work for more than 12 hours a day, reside in homes of strangers and are paid significantly less than local workers of the same occupation," it added.
The group urged the HK government to "ensure migrant domestic workers are provided with appropriate arrangements in terms of residence, working hours and holidays before further introducing migrant domestic workers into Hong Kong in order to prevent exploitation of workers."
"Aside from providing salaries not lower than statutory requirement, employers should also allow for sufficient resting time, sufficient food, and a safe working and living environment," FADWU said.
The group said government should also act to stop illegal practices of employment agencies, such as over-charging and retaining identification documents of workers.
FADWU said that there were almost 380,000 migrant domestic workers in Hong Kong, or around 10 percent of Hong Kong's labour force and their number continue to rise.
According to Labour and Welfare Secretary Law Chi-kwong, the number of migrant domestic workers in HK is expected to increase to 600,000 in the next 30 years due to the city's ageing population.
"The increasing number of migrant domestic workers reflected the need for support in domestic caregiving in Hong Kong. The flaws of the Hong Kong government in responding to the needs of childcare, elderly services, social welfare and family support were compensated by the presence of migrant domestic workers," FADWU said.
"The provision of cheap household and caregiving services were made available to Hong Kong at the expense of these migrant domestic workers— these workers left their families behind for a foreign destination to work for families unknown to them," it added.
The group noted that Chief Executive Carrie Lam had affirmed in her recent policy address the contribution of migrant domestic workers in assisting families in Hong Kong and, in turn, "releasing a significant labour force into the market."
Lam also pledged to reinforce support services provided to migrant domestic workers and to protect their labour rights, including strengthening law enforcement and the prosecution of unscrupulous employment agencies.
"Despite the mentioning of migrant domestic workers' rights, the policy address did not include any substantial measures and commitments," FADWU said.
"FADWU hereby demands that the government, instead of putting forward false commitments and neglecting the exploitation of migrant domestic workers in reality, to clarify the substantial measures in "enhancing support and protection" for the rights of migrant domestic workers," it added.
FADWU said it recently received multiple requests for assistance from Indonesian domestic workers after their identification documents were retained by their agencies. It added that there were also agencies that did not issue receipts.
Back